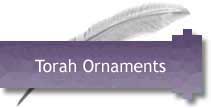 Torah ornaments
Sterling silver Torah ornaments, including Torah crowns, rimonim, also known as Torah finials or Torah finnials, Torah shields – Torah breastplates and Torah pointers – Torah yad, have been adorning Torah scrolls for hundreds of years. We express our love and commitment to our most sacred possession, the Torah, G-ds word, by dressing the Torah scroll in royalty.
We present to you our stunning collection of handcrafted, sterling silver Torah ornaments from Israel.
STAM works directly with the worlds finest Torah ornaments silversmiths- Bier Judaica and Netafim. Each piece they create is hand crafted in Jerusalem. They painstakingly construct each Torah ornament using sterling silver, yellow brass and occasionally gold in the age old fashion. In addition, we work with Gershi, one of the finest filigree artisans, who creates beautiful sterling silver filigree Torah ornaments in the age old Yemenite fashion.
Each Torah ornament is made to order and drop shipped generally requiring around 3 weeks.
Contact us to receive a price quote and to request additional information. Prices quoted will include express shipping from Israel and we will make every effort to meet or beat any price. Our price quotes remain effective for 2 weeks and if the silversmiths prices have not increased after the 2 week period the quote will remain in effect until such time as they are raised.
We can entertain custom orders and variations to present Torah ornaments. In addition, some Torah ornaments can be inscribed with a dedication.
Please note that due to the fact each piece is hand crafted there may be slight variations from the images shown.