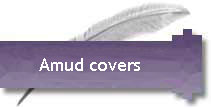 We work exclusively with the oldest and finest manufacturer of Judaica embroidery in Israel. They opened their doors as a small storefront in Jerusalem in 1929 and today the 3rd generation continues the tradition of excellence. In addition to amud covers, our Judaica embroidery collections include Torah ark covers, Torah covers / mantles, bein gavra, tefillin bags, bimah covers, velvet sefer Torah cases, megillah covers and navi covers.
How to order an amud cover
We offer a wide selection of embroidered amud covers. They are made to order in any size, for any style amud. You can choose from the amud cover designs shown, mix and match elements from different amud designs offered, submit your own design or work with us to create a custom design.
If ordering a parochet and you want a matching amud cover and don't see the matching style then we can show you the matching amud cover options.
We offer a number of velvet color options. If you prefer another material, let us know so we can see if it is in stock. If you have a preference for a certain fringe style let us know.
The selection and ordering information for amud covers is the same as for the bima covers. Please go to the bima covers page to view the standard collection.