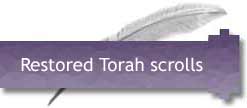 Restored Torah scrolls
We offer a wide selection of restored Torah scrolls- some are already restored and others await restoration. If we do not have what you are looking for we will search for it. Please complete the Torah scroll inquiry form so we can direct our efforts to your specific needs.
The legal ownership of each restored Torah scroll is verified to the best of our ability. Under no circumstance do we offer refurbished Torah scrolls from suspect sources. Similarly, we do not offer any used Torah scrolls if we suspect that they have been repaired prior by those who are not familiar with the halachic codes or are not permitted to fix them. Such repairs may have invalidated the Torah scroll and there is no way to correct the harm that has been done.
Restored Torah scrolls come in various sizes, weights, customs, number of lines per column, and conditions.
Many older Torahs are large and heavy. It was common to whitewash the back of the parchment to make it more attractive and to hide patches over holes. This adds significant weight to the used Torah scroll and often leaves a white powder on the letters, giving them a grayish appearance. Since lighter weight restored Torah scrolls are in greater demand and the supply is far more limited, these Torah scrolls are generally more costly. The lighter weight Torah scrolls may be due to size, the type of klaf and the number of lines per column. A tall, used Torah scroll that has 60 lines per column may be lightweight since there are significantly less columns than a standard 245 or 248 column Torah scroll.
Of course, the halachic status and beauty of the writing, the condition and appearance of the parchment and the life expectancy and projected frequency of maintenance have a major impact on the price.
Many older Torah scrolls are from pre-war Europe and have been damaged by fire, or have water stains, etc., due to being clandestinely transported or hidden in cellars, attics and even buried.
Upon purchasing a restored Torah scroll from STAM we provide a limited guarantee that the Torah scroll is kosher and in good condition and preserved to maintain its state of kashrus for hopefully many years with proper and responsible care.
The price for restored Torah scrolls generally range from $8,000 -16,000. In addition to the pre restoration condition and halachic status of the Torah scroll, a very significant part of the cost is due to the numerous hours of meticulous examination, repair, restoration and preservation. Our aim is to purchase used Torah scrolls that are in good condition prior to restoration even if they are more costly rather than to purchase a used Torah for very little that requires very extensive restoration work. While the resale price and beauty of both these restored Torahs may be comparable it is far more likely that the Torah that started off in good condition will require far less maintainence over the years.
Many Torah scrolls available for less will be due to the fact that they are not kosher, went through a substandard restoration or are in very poor condition with minimal chance of lasting for any reasonable length of time without significant investment. We pride ourselves as one of a handful of sources providing truly exceptional, Torah restoration services. We will gladly provide references upon request.
For proper care and correct maintenance of your Torah scroll please go to the How to care for your Torah page.
We will also consider purchasing Torah scrolls outright or selling them on consignment. Please contact us for details.