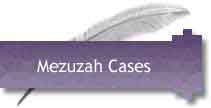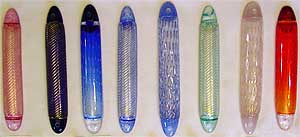 The mezuzah case or mezuzah holder, also known as a mezuzah or mezuzahs, is the often decorative case that houses the handwritten mezuzah scroll on klaf, parchment. The mezuzah case serves to protect the enclosed scroll. The Torah teaches us, This is my G-d and I will glorify him, from which we learn that it is proper to enhance the beauty of G-d commandments. The mitzvah of mezuzah is enhanced not only by choosing a beautifully written mezuzah scroll, which is of primary importance, but also by housing it in a decorative mezuzah case. This enhancement expresses our love for G-d and his commandments.
As there are literally 1000's of mezuzah cases available, we have chosen, at this time, to offer what we consider to be a reasonable, high quality and elegant mezuzah case that provides excellent protection for the mezuzah scroll. These lucite mezuzah cases can be easily affixed to your doorposts with screws, nails or double sided foam tape. It is easy to insert the mezuzah scrolls and the insides of the mezuzah cases are spacious so the mezuzah scrolls do not need to be wrapped too tightly and forced inside.

The clear lucite mezuzah case comes in 10cm (4 inches), 12cm (5 inches) and 15cm (6 inches) tall so is appropriate for any mezuzah scrolls we offer. It is perfect for indoor use and has a clear back that seals the opening. The scroll is visible inside the case.
The white lucite mezuzah case comes in 12cm (5 inches) and 15cm (6 inches) tall so is appropriate for any mezuzah scrolls we offer. It is likely the best mezuzah case option for outdoor, all weather use. The white reflects sunlight preventing the mezuzah scroll from drying and scorching and the ink from getting heated and melting or cracking. The mezuzah case opens from the bottom and is sealed with a rubber plug. Unless water, such as a sprinkler, sprays on the mezuzah case from below it, it should be well protected from the elements and humidity. There is a small, indirect opening in the rubber plug that allows a minimal airflow to prevent build up of moisture in the mezuzah case.
If you'd like to order mezuzah cases separately or together with your mezuzah scroll order please contact us.
Below is our showcase selection of unique mezuzah cases. We hope to occasionally introduce artistic, handcrafted mezuzah cases.
Contact us for details. Serious inquires only please.
Handblown Venetian Glass Mezuzah Cases
This group of magnificent hand blown Venetian glass mezuzah cases from Italy was specially made for us to hold up to a 5" mezuzah scroll. We also have a few cobalt blue retorto and cobalt sfumato mezuzah cases for up to 2-3/4" mezuzah scrolls. These majestic mezuzah cases can also be special ordered in additional sizes, designs and colors. We require a minimum number of special order pieces and it may take a number of months to make.
Sterling Silver Filigree Mezuzah Cases
These handcrafted sterling silver filligree mezuzah cases are made in Israel in the traditional Yemenite style. Mezuzah case, MZ-536, was expecially made for us to hold up to a 5" scroll and MZ-503 is our favorite small mezuzah case, which will hold a mezuzah scroll up to 2-3/4". Filigree cases are available by special order in many designs and sizes.
Dead Sea Stone Mezuzah Cases
These Dead Sea stone mezuzah cases are both attractive and very reasonable. They offer a cool, refreshing and Mediterranean feel. These mezuzah cases will hold up to a 5 inch mezuzah scroll and can be special ordered, with a minimum, in any size and any color glass.
Sterling Silver Mezuzah Cases
These contemporary silver mezuzah cases are hand crafted in Jerusalem. They are available in 2 sizes. The larger size will hold up to a 12cm mezuzah scroll and the smaller case will hold our 7cm mezuzah scroll. We stock a few of the larger mezuzah cases. For those cases not in stock we have a minimum purchase of 5 pieces in any size or design shown.