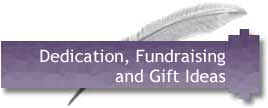 Everything we suggest below is directly available from STAM. We work with the finest artists and craftsman in Israel who create both standard and custom ordered masterpieces! Unique and custom orders are our specialty!
Dedications
The most beautiful, thoughtful and meaningful way to commemorate the memory or honor of a loved one or dear friend is by dedicating a holy scroll, such as a Torah or megillah or one of its adornments, in their name.
Eternalize the memory of a loved one! It is an ancient and honored tradition to have a Torah scroll written in memory of a dear one. The chanting from the Torah scroll brings great merit to the departed soul in whose honor the Torah has been scribed. The Torah is the heart of the Jewish people, its lifeblood, its nourishment. The Torah is referred to as the "Tree of Life". What greater way to uplift the soul of our departed ones!
Those who find it difficult to raise the funds for the writing of a Torah scroll should consider contacting family and close friends of the departed soul. Even the most unaffiliated will likely find great merit in eternalizing the memory of their dear relative or friend with the dedication of a Torah scroll.
In order to ease the commitment of such an undertaking, a sofer can be commissioned to write a Torah rather than acquiring an already written one. This will take 1 - 1-1/2 years to complete, allowing for payments in smaller, monthly installments. In addition, the cost of a new Torah scroll ranges from $20,000 - $60,000, allowing one to choose the Torah scroll that fits their budget.
The restoration of an older Torah scroll is also another praiseworthy way to commemorate the memory and honor of a dear one. Such Torahs range from $12,000 - $16,000.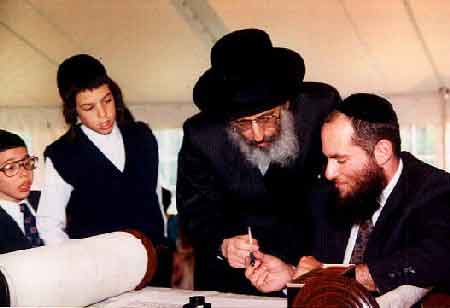 The writing of a Torah scroll is the last of the 613 Biblical commandments. We are taught that one who partakes in the writing of a Torah scroll, even if he dedicates one letter, is considered to have a share in the fulfillment of this mitzvah. Additionally, the restoration of an older Torah scroll, to enable its use in the Synagogue services, is also considered a fulfillment of this commandment.
A more affordable and highly honorable way to honor or memorialize a dear one is the acquisition of a megillas Esther, the scroll of Esther. Please see What is Megillah? Similarly, any one of the hand written megillah for the readings on Pesach, Shavuos, Succos and Tishah B'av could be written. Additionally, A book of Navi, the Prophets, for the reading of the weekly Haftorah or the hand written book of Haftorahs, common among Sephardic congregations, would serve as a very meaningful way to commemorate the memory of honor of a friend or relative.
The Torah teaches us, "This is my G-d and I will glorify him". This teaches us that it is a mitzvah to adorn and beautify the mitzvahs and the objects of mitzvahs so that they should appear beautiful. This is our expression of love, endearment and reverence for G-d's commandments. A Beautiful Torah cover or case, pair of rollers, crown, breastplate, pointer, etc., are all means in which the majestic splendor of the sacred Torah scroll is honored, enhanced and graced and thereby makes a most meaningful and beautiful dedication.
A Torah writing project is an excellent fundraising opportunity for synagogues, schools and organizations. It can also be a means of bringing communities together, creating unity and educating the community about the Torah and the scribal arts. It also helps institutions acquire a much needed Torah scroll. Please click on Torah Writing Projects for details.
Consider these additional fundraising opportunities:
A raffle for a Torah scroll, which would be housed in a predetermined location, most likely in the Ark of the sponsoring institution.
A raffle of a beautiful megillas Esther. To significantly enhance the value and attraction of the megillah, it could be beautifully illuminating by one of our outstanding artists and housed in a stunning sterling silver or hand carved, exotic wood case.
Beautiful tefillin, mezuzahs and cases, megillahs, etc, are an impressive and attractive addition to any raffle or Chinese auction.
Moderately priced (promotional) gifts for mail campaigns, door prizes and dinner gifts such as Torah pointers or custom designed embroidered items.
If your institution is planning an art auction, a beautifully illuminated megillas Esther would be one of the highlights of the event and one of the most cherished acquisitions. Similarly, a custom crafted piece of Judaica, created exclusively for this event would be the talk of the town!
Special and unique gifts ideas for your major donors, staunch supporters and function honorees:
Miniature kosher Torah with an option to custom design beautiful etz chaim (rollers) and Torah ornaments
Miniature or Giant sized megillas Esther with an option for illumination and a magnificent holder
Custom designed and crafted Torah cover or ark or reader's table cover in their honor
Majestic, giant mezuzah with an option to create a stunning mezuzah case
Sterling silver tefillin cases with a personal inscription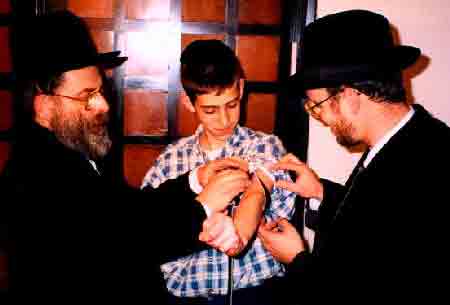 Housewarming:
• Mezuzah case
• Mezuzah scroll (specifically for new home or addition)
Bar Mitzvah:
• Tefillin (from parents or grandparents)
• Tefillin bag (custom made with your design)
• Sterling silver tefillin cases
• Torah pointer
Wedding and Shower:
• Mezuzah case
• Mezuzah scroll
Birthday, anniversary, graduation or retirement
• Megillas Esther (a very popular gift from bride's family to groom)
• Illumination of already owned megillah
• Case for megillah
• Tallis/tefillin bag
• Refurbishing and examination of tefillin
• Dedication of Torah cover, rollers, ark cover, Torah pointer, etc. to synagogue
• Sterling silver tefillin cases
• Torah pointer
• Presentation of restored Torah scroll to synagogue
• Restoration of one of the synagogues Torah scrolls
For the regular traveler:
• Tiny tefillin- easy to squeeze into a carry on
• Miniature, kosher Torah scroll perfect for "convention" minyans with a custom made, embroidered carry case