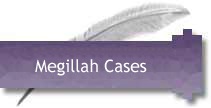 Silver megillah cases
STAM works directly with the worlds finest megillah cases silversmiths- Bier Judaica and Netafim. Each piece they create is hand crafted in Jerusalem. They painstakingly construct each megillah holder using sterling silver, yellow brass and occasionally gold in the age old fashion. In addition, we work with Gershi, one of the finest filigree artisans, who creates beautiful sterling silver filigree megillah holders in Israel in the age old Yemenite fashion.
Due to the high cost of silver, Bier now offers these Megillah cases in solid brass with a very high quality sterling silver plating. In addition, all styles are available in brass and copper.
As the price of sterling silver regularly fluctuates and these megillah cases are handcrafted to order we request a price quote from our silversmith upon each inquiry. The price quoted remains effective for 1 week after which time it could change.
Please read below for more important information about megillah cases then contact us to let us know which megillah holder interests you including:
the name of the artisan (Bier, Netafim or Gershi)
the product number(s)
the height of the megillah scroll
whether the megillah scroll is Sephardic (with roller) or Ashkenazi (free standing)
Megillah Cases by Bier
Megillah Cases by Netafim
Megillah Cases by Gershi
Back to top
Each megillah case is made to order and drop shipped generally requiring around 3 weeks.
Megillah cases come in many sizes, depending on the height of the megillah scroll.
In addition, the end of the Sephardic megillah scrolls must be attached to a single roller or pole. Ashkenaz megillah scrolls do not have to be attached to a roller and hence may be housed in a free standing megillah case. We can also offer megillahs attached to a pair of rollers, a smaller version of the Torah rollers. Contact us for details.
We can entertain custom orders and variations to present megillah holders. In addition, some megillah cases can be inscribed with a dedication.
Please note that due to the fact that each piece is hand crafted there may be slight variations from the images shown.