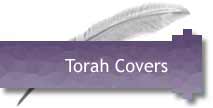 Torah Covers
We work exclusively with the oldest and finest manufacturer of Judaica Embroidery in Israel. They opened their doors as a small storefront in Jerusalem in 1929 and today the 3rd generation continues the tradition of excellence. In addition to sefer Torah covers, our Judaica embroidery collections include bein gavra, Torah ark curtains, parochet – paroches, bimah covers, amud covers, velvet Torah cases, megillah covers and navi covers.
Each Torah cover comes with a back vent, which our embroiderer feels is preferable to side vents. The back vent makes it much easier to put on and remove the Torah cover. The top holes are reinforced with attractive, wood reinforcement-rings in an appropriate color.
In addition to the Torah covers shown, we specialize in custom designs.
Create your own design, or we will design one for you.
Mix 'n match from our standard design, choose one of our standard designs and change the wording or create your own totally new design!
Choose from a variety of materials, trims, and colors.
Contact us for details!
High Holiday Torah covers
All of our machine embroidered and hand embroidered sefer Torah covers can be ordered in white for High Holiday Torah covers. Be sure to order well in advance to ensure delivery for the High Holidays!
Bein Gavra
Contact us
if you are interested in ordering a bein gavra, the flat, embroidered cover placed over the Torah between Aliyahs (those called to the Torah). They are available in any of the Torah cover designs or can be custom made.
---
How to Order
First, choose a Torah cover. Then you will be able to choose your options, such as colors, belt style, trim design, size, and dedication. Follow the Steps below.
Please Note:
Hand-embroidered Torah covers are stocked in limited colors and in a few standard sizes.
A special-ordered, hand-embroidered Torah cover will require approximately 8 weeks to ship.
Occasionally, regular-stock, hand-embroidered Torah covers may be temporarily out of stock and will also require up to 8 weeks to ship. We suggest that you contact us before making your online purchase to confirm that the Torah cover of your choice is available.
Special-order, machine-embroidered Torah covers require approximately 2 to 4 weeks to ship while some standard-stock machine-embroidered covers require up to 2 weeks to ship.
---
Step 1: Choose a Torah cover.
Click the image to see our complete selection of covers and to select your cover choice.